news brief
West Bloomfield Company Announces
Landscape Design Program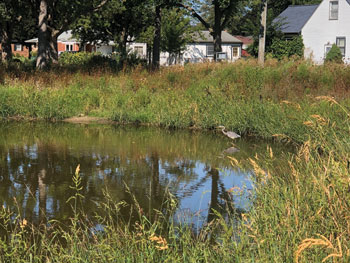 Natural Community Services (NCS), an ecological landscape design and restoration firm in southeast Michigan, is announcing their Fall / Winter survey, design, and invasive brush control program October through February. This special program saves 20% on site visits, new landscape plan drawings and eradication of invasive and existing species from site to provide clean, weed-free beds for planting and seeding in spring.
"Invasive plants like buckthorn and Phragmites lower property values, reduce drainage and are fire hazards," explains John DeLisle, principal ecologist. "Invasive species consist of exotic, aggressively rooting and seed-dispersing plants such as Japanese knotweed, giant reed, reed canary grass, glossy and common buckthorn and autumn olive."
Control can include mechanical removal, prescribed burning and systemic, no- or low-toxicity chemical treatments, which translocate safely, and are most effectively moved to roots in winter. NCS then implements the native landscape 'revegetation' design to grow habitat and flowers over areas once dominated by invaders.
"Forests, shores, meadows, lawns, hills and swales can all be converted to native plants (or wildflower seed, at even lower cost)," adds DeLisle, "that help you encourage pollinators and save you time and money managing your landscape in a more natural way."
For more information, contact Liz DeLisle at 248-513-1909, visit their website at NaturalCommunityServices.com, their Facebook page: Facebook.com/NaturalCommunityServices or email This email address is being protected from spambots. You need JavaScript enabled to view it..
For more information on Natural Community Services check out their online Natural Directory listing.